KB ULTIMATE DI
The KB ultimate DI is a high quality direct box with selectable on board preamplifier and equalizer designed specifically for bass players.
The preamplifier has an unprecedented linearity. Almost don't need a compressor or limiter for bass guitar. Magnificent sustain, deep bass with non-aggressive and melodic medium. It's ideally suited for use with active or passive bass guitars, keyboards and both acoustic and electric guitars.
Directions
Just plug the instrument into the box and then go from box to your amp or direct to the board.
All 3 outputs, Parallel out, Out and XLR out can be used simultaneously.
Configurable XLR output let user to select between Standard DI function (with variable pad) and preamplifier and EQ in the path.
Turn off the XLR output (to minimize the consummation when not in use)
Ground lift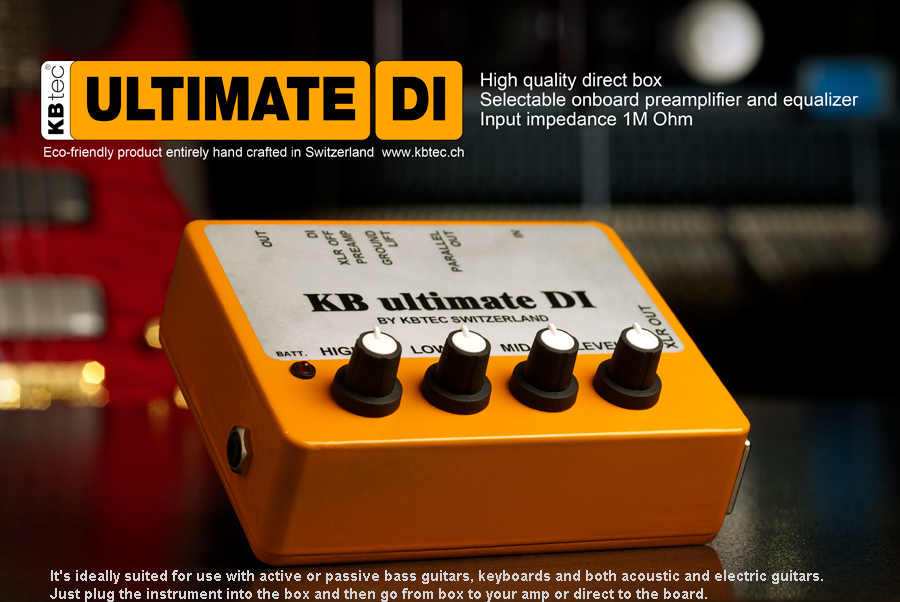 Specifications
Input impedance 1M Ohm standard 6.3mm Jack (use always a mono jack) inserting a mono jack into the Input will turn on the KB ultimate DI
Parallel out standard 6.3mm Jack is just a copy of the Input signal
Output impedance 13K Ohm standard 6.3mm Jack
XLR output impedance 600 Ohm (Protected against 48V phantom power)
Controls : Low, High, Mid, Level
Frequency response 3Hz to 60KHz
Power supply : one 9V battery or DC 9V adapter (optional)
DC 9V input 3.5mm jack : Tip = +9V, Ring = 0V
Power consumption : Approx. 850uA when XLR output is on.
Approx. 500uA when XLR output is off.
Battery life : Depend on configuration of XLR output (off/on) approx. 1000/500
hours with standard 9V battery.
Low battery indicator LED
By it's low consummation of energy and it's Pb-free conception, the KB ultimate DI is an economic and eco-friendly product entirely hand crafted in Switzerland.